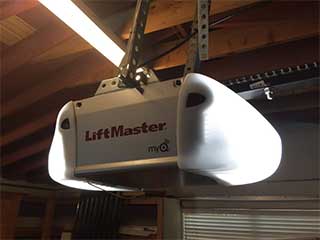 Looking for garage door opener solutions? Look no further than us! With our top-notch services, we've got you covered whether you want to adjust, repair, or replace your opener. We stand by our technician's expertise and are confident we can deal with just about any opener issue your system comes up with.
Our Technicians are the Best in Texas
Our highly-trained technicians at Garage Door Repair Little Elm, TX, will diagnose your existing motor, regardless of its type and make, and are usually able to repair your opener in a single visit. This is because we always maintain a comprehensive inventory of high-quality spare parts that our technicians carry in their vans.
We Always put Safety First
We put a strong emphasis on your safety by offering a variety of opener accessories, such as:
Motion detectors for increased safety cameras, which in combination with your MyQ technology, allow you to see what's happening in and around your house in real time and parking transmitters which will prevent you from bumping your car on the garage wall while parking
When to Replace Your Garage Door Opener
We recommend you upgrade or replace your existing opener unit if:
• You have a model, which dates back to 1993 or before, as these models don't pass safety inspections.
• If your opener isn't in compliance with other safety standards, for example, if it's lacking safety eyes.
• If the brand no longer exists and the replacement parts are unavailable or difficult to source. In this case, a replacement is your only option.
• If your motor has suffered damage, for example as a result of improper garage door balance. If your springs are the wrong size or weight, your garage door will be out of balance, which puts an extra strain on your opener.

We also offer:
Emergency Garage Door Services
Screw Drive Opener Replacement
Garage Door Troubleshooting Services
Extension & Torsion Spring Replacement