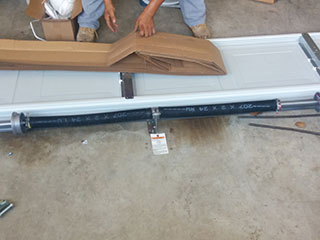 During its lifetime, your garage door completes around 10,000 cycles before one of the components eventually gives away. Most commonly, your springs are the first ones to break and when this happens, the best practice is to replace both springs as they both have approximately the same lifetime.
Dangers of DIY Repairs
It is very important that you do not try to adjust or repair broken springs yourself but rather hire a qualified professional who will carry out the process in the right way. This is because your garage door springs are under extreme tension and attempting any DIY work could result in property damage or worse - injuries.
Our technicians at Garage Door Repair Little Elm are fully licensed, trained and competent in all sorts of spring repairs and replacements. We will conduct the process in a safe and proper manner, the first time around.
Garage Door Spring Types
Although there are several spring mechanisms utilized in the industry, the two most common are torsion springs and extension springs. We specialize in servicing both of these types with our local customers.
How to Identify the Type of Spring
Torsion springs are the most common type, found inside the garage, right above the door itself, and are mounted on the torsion shaft. You need to be very cautious if one these springs snap as their extreme tension can prove to be very dangerous. They have enough force to damage your property or even gravely harm you. This is why it is always wise to hire a knowledgeable professional to deal with torsion spring malfunctions.
Extension springs lift your door by balancing its weight. Attached to a pulley, these springs compress and stretch so as to match the balance of your door's weight. When it comes to extension garage door spring repairs, replacements, and adjustments, our company is fully committed to excellent service and 100% customer satisfaction.
In addition, count on us for:
Overhead Door Installation
LiftMaster Garage Door Maintenance
Door Opener Troubleshooting Services
Garage Door Extension Spring Installation