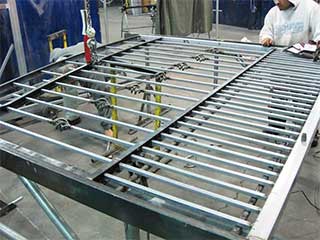 We understand how difficult it can be to struggle with a broken gate system. When you call us for assistance, our team of professional technicians will work hard to provide a lasting solution. We provide both residential and commercial gate repair services, and our technicians are able to offer everything from on-the-spot replacement of worn out parts to hinge welding and dent removal.
Finding And Solving Your Problem
Our team knows their way around every make and model of system. They can quickly work out what's gone wrong, and how to fix it. In many cases, the root cause of the problem might not be apparent. In these situations, our technicians will identify the underlying cause of your gate's failure, and ensure that any repairs carried out are designed to last.
Services We Provide
There are plenty of things that can go wrong with an automatic gate, which is why our team offers a wide range of services to cater for every issue. In addition to our other services, we provide intercom and opener repairs, when something goes wrong with one of these mechanisms, we'll help you get your system operating reliably again as quickly as we can. Our technicians also provide extensive safety sensor testing services and can carry out any adjustments as necessary.
Repairing Damaged Parts
In addition to performing repairs for electrical components, our technicians can resolve a wide number of problems with your gate's hardware parts. This includes hinge welding repairs, so that your gate is kept strong and stable for daily use, and repairs for tracks that might have become dented, damaged or corroded.
Replacement And Installation
We offer replacement services for a wide range of modern parts. Our technicians can quickly fit most components - whether your opener needs a new circuit board or your gate's wheels have failed, we can get your system working again.
Contact Our Team Today
If your gate system is showing signs of wear and tear, or if it has already broken down, you're likely to need the help of our technicians. In order to arrange a fast and effective repair, simply contact our team at Garage Door Repair Little Elm today!
Our team can also take care of:

Extension Spring Adjustment

Belt Drive Opener Installation

Garage Door Panel Replacement

Roll up Garage Door Maintenance